Composition of Non-woven Production Line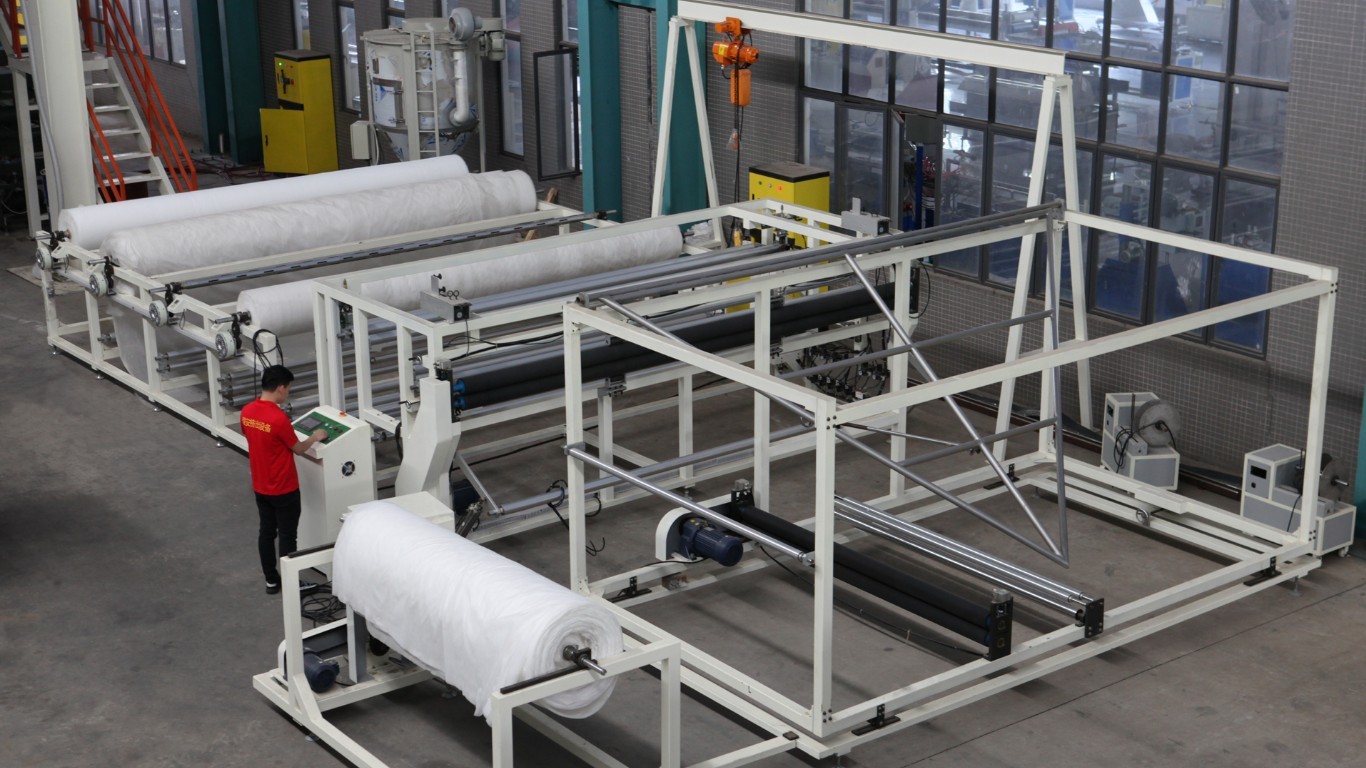 The
non-woven machine
is a whole production line for producing all kinds of non-woven fabrics. According to different applications, there are different production lines, including needle punching production line, thermal bonding production line, spunbonding production line, meltblown production line, etc.
1. Bale opener: Opener is a fiber-opening machine. It conducts fiber opening and quantitative input of the number of fibers through an automatic weighing system, and at the same time, the raw material mixing ratio can be set through the cooperation of multiple bale openers.
2. Opener machine: Fully open the fibers, and then transport the raw materials to the next process through the fan motor.
3. Non-woven hopper feeder: The finely opened and blended fibers are processed into a uniform fiber mat, which is continuously fed into the next carding process.
4. Carding machine: Cards the fibers and converts the fibers into a uniform and continuous fiber web. Fibers can be PET, PP, viscose, nylon, fiberglass, jute, etc. There are two types of carding machines, single-cylinder double-doffer carding machine, and double-cylinder double-doffer carding machine.
5. Cross-lapper: Convert the single fiber web into the overlapping form of desired width and thickness. This web forming process is suitable for needle punching and thermal bonding.
6. Needle punching machine: It is an indispensable machine in the production of needle-punched nonwoven fabrics. Needle punching machines utilize mechanical and physical methods to produce non-woven fabrics. Our needling machines are designed with single-board, double-board, medium speed, high speed, structured needling machines, paper felt needling machines, etc.
7. Calendering machine: carry out high temperature and high pressure calendering treatment on the product with a certain thickness, performance, and appearance.
8. Slitting and winding machine: winding and cutting the product into various lengths or sizes, suitable for various non-woven fabrics.
9. Oven: Use hot air to heat the fiber web through the process to achieve the purpose of bonding and drying. It can be used to produce various thermal bonding product fillers, gaskets, insulating materials, etc.
10. Stretching and heat-setting of non-woven products, such as: Needle-punched carpets, filter media, shoe linings, shoe soles, polyester roofing felt, industrial non-woven fabrics, etc.
11. Non-woven drafting machine: drafting the fiber web (after cross-lapping), the purpose is to adjust the fiber distribution structure and increase the output speed at the same time.
12. Airlaid machine: The aerodynamic method is used to form the fiber web, and in some productions, it replaces the ordinary carding machine and the cross-lapper to form the web.
The above describes the composition of the non-woven production line. If you plan to purchase a non-woven production line, please
contact us
.
ASEN is a professional
non-woven machine manufacturer
. A company integrating R&D strength, sophisticated design, professional production, sales, and after-sales service. We specialize in the production of S (spunbond), M (meltblown), SS, SXS, SSS, SMS, SMMS, SSMMS and other types of PP (polypropylene) spunbond and meltblown nonwoven production lines. Founded in 2009, our group has been involved in non-woven machinery, non-woven fabrics, medical supplies, and other fields, providing high-quality products and services to global users.